Your prospect list is the hub of all your marketing and sales initiatives. Without proper, up-to-date contacts, you essentially are throwing spaghetti at a blank wall and hoping it sticks. However, with qualified and current data, you are cooking a 5-star meal that can feed your sales pipeline.
What is list hygiene?
List hygiene is the method of developing and maintaining a calling and mailing list. Clean data allows an organization to call and mail prospects and maintain subscription to your marketing and sales communications. It's estimated that somewhere around 2%-3% of your cold calling lists will become inaccurate each month. In just a year, that could be up to a third or more of your entire contact list.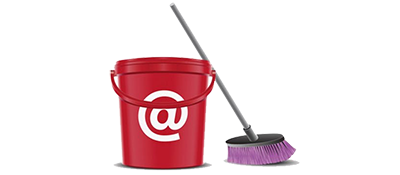 Why is list hygiene important?
Anyone who has cold called a prospect understands the importance of client data. Having the proper name, title, and number allows the sales representative to reach the potential decision maker quickly, without going around in circle through a phone directory or receptionist. Additionally, improper contact information can decrease the efforts of any campaign and subsequently reduce employee morale. For sales personnel who depend on a calling list, can you imagine the frustration if the contact is not up to date?
Your marketing department will likely be the biggest advocate when it comes to clean data for email. Email providers have become smarter and more attuned to what recipients want to receive in their inbox, and have made deliverability more elusive. Now that deliverability is determined by algorithms there are a lot of factors — including open rates and spam marking — that determine if an email gets through.  So what good is putting together a thoughtful, email marketing campaign if you end up in the spam folder for more than half your contact list?
How can I clean up my list?
There are a couple of easy solutions you can implement right away to clean up your prospect list. The very first thing is to look at the bounces after an email campaign. Most email marketing tools, such as MailChimp and Constant Contact, will provide you with the vital statistics you need to measure the success of an email campaign. Further, they will provide you the list of emails that bounces and the reason why. Some emails bounce due to spam filters, but others bounce because that email or domain is no longer available. The latter is a strong indication that your contact list is out of date, and you need to cleanse those emails from your database.
Let's say your database is often supplemented with contacts from a list broker. Not all list brokers follow typical list hygiene processes. Make sure you vet a broker thoroughly. How often do they cleanse their list? Do they have a certain percentage of guaranteed contacts? Can you send bad data back to your list broker in return for more new data? All these are things you want to ask your list vendor before purchasing contact data.
Your company might not have the time or man power to call prospects and do your own list hygiene. There are many reputable vendors available who can run these campaigns for you. Their agents, using best-in-class processes, can get through to the right person to verify contact information and update your database with vital contact data. When looking for a vendor, you might want to consider the following:
Do they have a list hygiene process to ensure proper data collection?

Does the company offer an option to obtain additional information regarding the contact or company to help with contact or marketing initiatives, such as finding out what role they play in the decision-making process, or what department they are in?

Are calls recorded for quality assurance?

Do they have experience with list hygiene programs, and potential case studies or references you can check?

If they come in significantly lower than other vendors, you might want to ask about their workforce. Some vendors use overseas or work-from-home agents who don't always follow the most ethical processes, and in turn, can tarnish your reputation.
Support Your List Hygiene Program
List hygiene is an important function of any sales and marketing department. Clean, up-to-date contact data improves your return on investment (ROI), and the overall morale of your staff working diligently to sell your products and/or services. You can start cleaning up your database with simple projects in-house or use a third-party provider to help cleanse your database. Either way, supporting your list hygiene program is key to the overall success of your organization.
Call Center Services, the appointment setting pros, are more than just appointments. We can also help you generate the highest possible return on your data assets. To learn more, call us today at (800) 959-3682 to learn more.