What Does Outsourced Lead Generation Mean?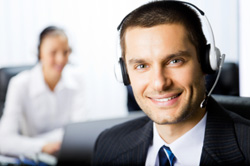 When an organization outsources sales lead generation, it is handing off a controlled process of qualifying sales opportunities to a team of specialists. Companies outsource sales lead generation not only because they seek qualified leads, but they typically get those leads more quickly and for less money than if they hired internal resources to handle the process. In the case of CCS, many organizations reap the benefits of an entire team of lead generation specialists for less than the cost of hiring one sales or business development professional.
It is highly recommended that organizations that are considering this approach run the numbers to determine exactly what will be saved financially. However, financial overhead is only a part of the equation. Management overhead and quality output are two other compelling considerations to outsource lead generation. This white paper will go on to describe the variety of factors that go into the decision to outsource lead generation successfully.
Retain Control While Decreasing Management Overhead
The right outsourced lead generation employees respond, think, and perform as members of the client's internal team. They are fully available for meetings, training, status updates, consulting, and metrics reporting. The client remains in complete control of their outsourced team at all times. In most instances, clients consider their outsourced team easier to manage than internal sales staff. Meetings are organized, and little to no time is spent on outbound calling logistics such as managing lists, fine tuning messaging, honing pitch techniques, reporting, and managing the marketing database. All of those efforts can be managed by a qualified outsourced team. As a sales or marketing professional – If you've ever been asked for a new list by your inside sales staff – you understand the value of not having to worry about the logistics of outbound lead generation campaigns.
Why Outsource?
There are a number of fundamental reasons that an organization chooses to outsource their sales lead generation process, each of varying levels of importance to different firms:
Time to Pipeline Development: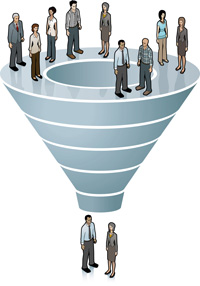 Most organizations choose outsourcing to leverage the specialists' ability to get a campaign up and running in far less time than it would take to either hire, train, and/or reorganize an internal team for the same endeavor. Sales pipeline development requires immediate and consistent results, and most firms that outsource have chosen to hit the ground running in a matter of days, not weeks or months. Outsourcing to a team of experts who have specialized in sales lead generation buys the client a number of efficiencies, not the least of which is an immediate understanding of the nature of the campaign, the type of messaging that will get the desired result, and an immediate feedback loop that will help the client find and penetrate the ideal industries and prospects. Outsourcing to the right firm will speed time to market, flatten out a campaign's learning curve and begin delivering qualified sales leads literally overnight. Many organizations retain outsourced lead generation firms for time sensitive projects, such as the need to generate attendees for live events, including seminars, tradeshows, or webinars. Additionally, a client may use the lead generation firm to conduct follow-up after an event.  An example of a follow up could include email response or white-paper/ collateral downloads.
Reduced Management Overhead: Outbound lead generation requires a team effort to be run effectively. It is a culmination of the right messaging and collateral, the right calling agents, the right list, and efficient reporting and database management. Managing inside sales professionals who will focus on cold calling and lead qualification actually requires far more support than a few phones. Higher-level sales professionals who need to achieve quota don't have the time or the resources to manage a mini-call center, and benefit immensely from outsourcing their lead generation.
Call Center Discipline: Except in situations where a firm has a larger (20+members) internal call center with strictly-defined processes and schedules, productivity challenges arise. Internal team-members become part of their organization's social and political culture, taking time away from phone calls, and complicating campaign strategy. It is virtually impossible for most organizations to develop and maintain the disciplined phone outreach, messaging, campaign management, and reporting that an outsourced firm delivers.
Staffing on Demand: Sales goals, special promotions, product developments, and business modeling may cause an organization's sales requirements to fluctuate. Leveraging an outsourced lead generation team can allow for increased or decreased staffing against these developments as needed.
Adding or subtracting outsourced team members who are easily trained, or already cross-trained, in a client's campaign activities, can be done on- demand. Outsourcing is far easier, and less costly from a time and financial perspective, than meeting those staffing requirements internally. Not only is the hiring process unnecessary, but it also removes the need to train "un- knowns", and monitor their contributions over time that nobody has.
Multi-Channel Lead Generation: There are many aspects to the sales lead generation process, all of which are handled more efficiently by those who focus exclusively on the discipline. One key area is the ability to reach and engage potential buyers. In today's world of multi-channel communications, it is more critical than ever to retain an outsourced lead generation firm that leverages not only the phone, but email and online communications as well. This helps to target, reach, and influence a client's prospects.
CCS offers a multi-channel outreach which includes phone, integrated email, email blasts/newsletters, search engine marketing and social media strategy implementation. Not only is it cost-effective to leverage one firm to handle multiple approaches to lead generation, but it ensures consistency of messaging, professionalism, and strategic follow-up phone calling to convert interested parties into qualified leads.
One of the most common goals we hear from both clients and prospects is, "We want to be there at the moment our prospect realizes they have a need". A multi-channel approach increases the odds of this timely connection between vendor and prospect.
Consistent Status Updates and Reporting: One of the sales management requirements that an outsourced lead generation situation can bring to the table is consistent status updates. These provide an excellent opportunity for recurring campaign optimization. In the case of CCSI, the client's dedicated program manager pro-actively summarizes findings, and suggests improvements for a more a successful campaign.
Each client is also served by database administrators who create consistent and easy-to-read updates of weekly campaign results. Many clients archive their reports or forward them to their management as needed. This is an important time-saver for the client organization, as it tracks the efforts of the outsourced firm.
Unexpected Benefits to Outsourced Lead Generation
Outsourcing your sales lead generation creates some "unexpected" benefits and favorable dynamics that often cannot be replicated in-house.
A business model that generates the right results: If the most flexible of outsourced business models has been reached, the outsourced lead generation team is as easy to toggle off as it is to toggle on. All it takes is a phone call. This is a far less involved process than internal hiring and firing. Outsourced teams typically find themselves under great scrutiny and must earn and re-earn their client's business over time– to a greater extent than full-time hires who have been nurtured more directly by the hiring manager. This phenomenon is at the core of the efficiency of outsourcing. The client will be less tolerant of blips in performance, which helps guarantee that the outsourced campaign will perform effectively at all times.
Not all outsourced lead generation services have a flexible business model. It is important to follow a model where the outsourced firm is motivated to develop qualified opportunities, not motivated to get appointments. There is a difference. The latter leaves a large margin for wasting the valuable time of sales professionals. Also, the client sales reps should be in a position to perform timely follow-up with the lead as soon as possible, in order to develop the relationship. Clients of outsourced lead generation should never agree to meet a sales lead face-to-face without direct phone contact first. Otherwise, the client is opening themselves up to a "comedy of errors" where they may be meeting with a completely unqualified opportunity, however, their title seemed right, or the company descriptor had the right "buzz word" in it. This is outsourced lead generation at its worst, and a situation that can be avoided with the correct business model.
Benefits of a mentor-based system: It's a well-known phenomenon that there will be inconsistency in the performance of your sales professionals. Some will do better than others. There will be stars, there will be those who aspire to be stars, and there will be those who are satisfied with their lesser contributions. At most organizations, the bell curve is what it is. In the case of outsourced firm CCSI, the stars serve in a mentoring capacity to even out the curve. They help position other team members for campaign success. The shared goal is client success.
Finely-tuned Target Marketing: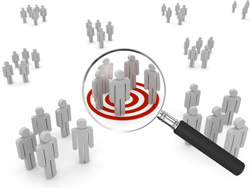 While many companies decide to outsource because of new developments, such as a SaaS business model, many have decided to outsource their lead generation because they need a higher volume and/or higher quality of sales opportunities for their internal sales professionals to focus on closing.
Either way, messaging and target marketing is always an area ripe for a tactical discussion. A critical part of any new lead generation process is to get all stakeholders around a conference call with the outsourced provider. Topics to address should include the following, at a minimum:
What are the typical titles that should be targeted? Which industries will contain a "soft spot" for your offer? What is the value proposition?

What is the fallback

offer,

if the primary offer is refused? What is the competitive landscape?

What is your typical sales cycle?

What is the volume of lead flow expected?
It is very important that the outsourced lead generation firm allow the client's stakeholder team the opportunity to get on the same page regarding these points. Only then, will a successful campaign be possible.
List development and clean-up: The number one issue with many organizations' sales processes is the absence of an up-to-date list of the right contacts at the right companies. One of the by-products of an outsourced lead generation effort from CCS is a clean list. As the agents make contact with individuals, they are constantly capturing updated prospect information. For example, if a person is no longer with the company, they will update the list with contact information for the new responsible party – as they attempt to convert them into a sales lead. CCS will also notify clients of any issues with the list, such as any potential mismatches between the value proposition and the title of the prospect, industry, or other factors that could inhibit campaign results. CCS believes its mission is to generate viable leads, not to maximize dials against a flawed list.
Some clients use CCS to develop lists for them. With more online information than ever before, it has gotten easier to fine-tune list development efforts by industry, title, geography, even job responsibilities. This way, more effort can go into reaching and persuading the right prospect, rather than confirming the prospect's appropriateness for the client offer. See the Data Management and List Hygiene services page to learn more.
Outsourced Lead Generation at its Best – the Smooth Relay
As experienced marketing and sales professionals know, a substantial investment of focused effort goes into the process of capturing a lead. This entails reaching a prospect live, qualifying them as a potential buyer with a perceived need, and acquiring permission or further discussion with the client's sales representative. However, this is only step one on the way to closing a sale. The qualified buyer must be "re-reached" by the client's sales professional, in order to move further down the sale funnel. When outsourced lead generation works well toward closing new business – it is only due in part to the outsourced provider. The remainder of the equation is the motivation and process at work on the client side.
As soon as permission for further contact is acquired, whether an appointment is scheduled, or "best time to reach" is handed off to the client, most successful sales professionals will take advantage of that opportunity to begin relationship building. To close more sales, organizations should have a tight follow-up process defined prior to engaging the services of an outsourced lead generation provider.
CCS has experience uploading sales leads into CRM systems to facilitate an organized follow-up process on the client side. It is important that clients of outsourced lead generation determine which sales team members will receive which leads, that a lead scoring system is in place if appropriate, and ensure that the sales cycle is clearly defined and any support collateral is available. The most successful lead-generation campaigns are the ones where the out- sourced firm accepts the responsibility of capturing and qualifying leads, and the client organization accepts the responsibility of closing those leads.
Capturing Qualified Leads: "It's a skill"
A very common quote heard among seasoned inside sales professionals regarding lead qualification is…."It's a skill". Experience in this field can help avoid a number of common rat holes that can sabotage sales opportunities, and burn daylight in the process, bringing companies farther away from their annual sales goals.
Here is a list of Top Ten challenges that experienced lead generation companies have the skills to handle:
Rapid identification of a "mismatch" between messaging and market

need

Ability to generate qualified leads from an out of date list, updating data

in the process

Differentiate between prospects who genuinely want to learn more,

versus those who want to wrap up the call

Call prioritization and management of prospect database

Strong ability to document qualification criteria, and build actionable

intelligence into every lead

Connect live with the appropriate

party,

despite prolific use of voicemail/email screening

Ability to relate to variety of titles/buyers with compelling questions and

conversation

Identify appropriate timing to close the loop and capture the lead,

versus the need for further nurturing/relationship building

Keen discipline to know when to listen and when to speak
CCS lead generation services include professional Lead Generation Services, Appointment Setting, Event Registration and List Hygiene services. To learn more about how to start your lead generation program with CCSI, please contact us.
Download the above guide as a white paper: Click Here