As most customer service and sales professionals know, setting an appointment is a key step to selling your service or product. While an initial cold call may land you an opportunity to pitch your offering, many of your target audience members will be unable to fully grasp the benefits of your solution in a quick call, and will require a much more in-depth analysis to make a buying decision.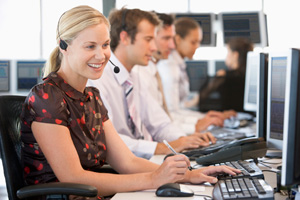 However, appointment setting in and of itself is a challenging obstacle. Your goal is to not only present value, but to confirm a day and time to provide an in-depth presentation, possibly adding other decision makers or purchasing influencers to the appointment. Before you know it, the prospect starts to hem and haw about how they must get back to you with a better time. However, there are some appointment setting techniques that will help you close the call successfully, and guarantee a confirmed appointment on the calendar before they hang up the phone on the receiver.
1) Be Flexible:
Flexibility is key to appointment setting. If you are not willing to work on their terms now, they become less confident on your ability to be flexible when they buy your product or service. If they can only offer appointment times outside normal business hours, get up early or stay late to accommodate their need. They want to redirect you to another member of their team? Do not ignore their wishes, but feel free to ask if they would like to be kept in the loop. When they see how flexible you are and inclined to listen to their requests, they will be more likely to respond favorably to your sales pitch. 
2) Value their Time:
The prospect is likely very busy, which means pinning down an appointment time is vital on the initial call. Otherwise, you or your appointment setting team will be chasing the prospect again to try and pinpoint a specific appointment time, which can extend into days, weeks, or even months. The best solution is to express how much you value their time. You can do so by ensuring their time will not be wasted because your product or service is likely a great solution to their problems. If they continue to push back, explain you understand their time is precious and that you will be happy to limit your presentation to 15 or 30 minutes, which is  reasonable and can likely be squeezed into even the busiest of days. You can also offer incentives so no matter what the buying decision, they feel value in the appointment. This could include a free market analysis, lunch, or even a gift card to their local coffee shop.
3) Understand "No" is Inevitable, but Not Definite:
We have all been there. We have a great call with a prospect, and just as we go to confirm an appointment, they say no. Maybe they were not interested in your product and service. Maybe they do not have the budget, but still wanted to hear about your offering. Maybe there was something mentioned which disqualified you from their selection process. Whatever the case, it can be frustrating when trying to set an appointment. The key is not to let this frustration result in rudeness or anger, but instead, use the opportunity to build your network. While they might not need your service or product now, they could in the future. Make sure you provide them your contact information should circumstances change. Still connect with them on LinkedIn so you become part of their network. Check in with them time to time to say hello. If you handle rejection in a pleasant manner, the prospect may be likely to do future business or refer you to others in their network.
Ultimately, these three appointment setting tips will help you improve your processes. Being flexible to the prospects needs, shows that even in the appointment setting phase, you are willing to work with them. By showing you value their time, they are more likely to set an appointment because you understand their needs and pain points. And finally, if they say no, do not let it get the best of you. Continue to show professionalism and add them to your network. You never know when they might change their mind.