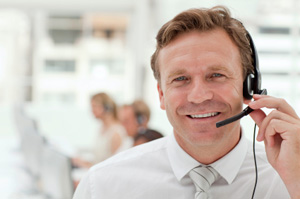 Qualified scheduled appointments are ideal when it comes to filling your sales pipeline. However, many sales organizations will tell you that though appointment setting is a vital part of the lead generation process, it is also one of the hardest. It requires a significant amount of time, research, and gumption. To best convert your leads, you must start with a solid appointment setting process. Here are some tips to help you refine those steps:
Identify the Decision Maker
Jumping headfirst into a sales call is not exactly the best method. Within just a few minutes of being passed around by gatekeepers and forwarded to voicemails, you feel defeated and the energy you built up to cold call a prospect is depleted. Instead, take the time to really know who you are targeting. You want to show you clearly know the company and have reached the right person who can make the decision, or at least strongly influence it. Otherwise, you will be wasting everyone's time. 
Use your Manners
Let's face it, when you are calling a new prospect you likely are going to interrupt them in the middle of something. Some people are more welcoming than others, but it does go a long way to show them you are completely cognizant of the interruption. Be polite – ask them if its okay for just a few minutes of their time. Tell them how thankful you are that they are willing to give some time, and do not be short if they say 'no.' Simply let them know you understand, and then ask if there is a better time you can call back or offer an introductory email instead.
Mirror your Prospects
One of my favorite sayings is "birds of a feather flock together." It is an important lesson in sales. To create rapport with a prospect, you want them to feel at ease. The best way to do that is making them feel like they are talking to someone on their own team. So, you want to mirror them – match the tone of their voice, use their language, and generally follow their lead. However, it is important you subtly mirror someone otherwise you risk it feeling like mockery.
Be Prepared and Listen
You want to be prepared with talking points, especially for common rebuttals. It is easy to get tripped up on a phone call. Having a call guide to reference when you are feeling flustered will keep you on track. However, you do not want to just jump right in with a script. It sounds mechanical and the conversation becomes one-sided. Ask the prospect some questions to discover what is important to their business. Listen to what they say so you can tailor your service or product offerings to their pain points and highlight only what features or benefits might be best for them.
Do not forget the End Game
The whole point of appointment setting is to get a better time on the calendar for a full presentation. Very often, you can get lost in conversation and lose sight of the goal. Remain focused on setting the appointment, and resist trying to fit in other initiatives on an introductory call. Kicking off the call with an extended description of value propositions and service features can dilute the chances of actually securing an appointment. Sometimes, less is more.
However, if a prospect insists on learning more before confirming an appointment, do not turn down the opportunity entirely. Share more information, but then come back to the goal by saying something like, "I'd love to get a time on your calendar to bring in my subject matter expert on this topic. I think he/she could offer some more details of interest to you."
While following these best practices in appointment setting will definitely increase your revenue, building your pipeline with scheduled appointments is a time-consuming practice. Sometimes, a sales representative's time is better spent focusing only on well-qualified leads. Consider outsourcing to appointment setting firms to leverage their experience and team. This could free up your employees to be more productive on other, more pertinent tasks.